Land Clearing Services in Hyde Park, NY
At Red Cedar Landscapes, Inc, we specialize in providing top-quality land clearing services in Hyde Park, NY and surrounding areas. With our expertise and state-of-the-art equipment, we make sure to deliver professional results for all your land clearing needs. So whether you're a homeowner, business owner, or contractor, our team is here to help you transform your property into a clean, safely cleared space.
Expert Land Clearing Services
As the leading land clearing company in Hyde Park, NY, we understand the importance of a well-cleared and maintained property. Our team of skilled professionals are highly experienced in all aspects of land clearing, and we take pride in delivering exceptional results to our valued customers. No project is too big or small for us, and we approach each job with the same level of dedication and attention to detail.
Clearing Land for All Purposes
Land clearing is an essential step in various projects, including residential or commercial development, agriculture, or simply improving the aesthetics of your property. With our expertise, we can effectively remove unwanted vegetation, trees, shrubs, and debris to make way for your specific requirements. Our team will also work closely with you to understand your goals and tailor our land clearing services to meet your unique needs.
Safety and Efficiency
At Red Cedar Landscapes, Inc, safety is our top priority. That's why we adhere to strict safety guidelines and regulations to ensure a safe work environment for our team and our customers. Our professionals use the latest equipment and techniques to complete the land clearing process efficiently and effectively, minimizing any disruption to your property. And we'll work diligently to complete projects on time and within budget, without compromising on the quality of our work.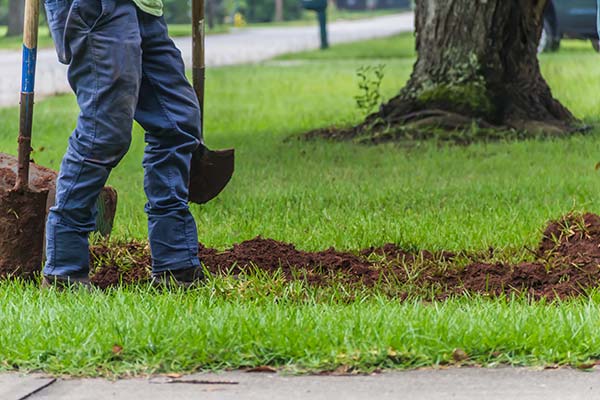 Environmentally Friendly Practices
Environmentally Friendly Practices
With our commitment to environmental consciousness, we strive to implement sustainable land clearing practices. Our team is trained to identify and protect ecologically sensitive areas on your property, preserving the natural habitat and minimizing the impact on the environment. We also utilize eco-friendly methods to dispose of debris and incorporate environmentally conscious solutions wherever possible.
Customer Satisfaction is Our Priority
At Red Cedar Landscapes, Inc, we take pride in providing exceptional customer service every step of the way, and our team is dedicated to ensuring your complete satisfaction with our land clearing services. We work closely with you, keeping you informed throughout the process, and addressing any concerns or questions you may have. After all, we believe in building long-lasting relationships with our clients based on trust, reliability, and quality workmanship.